Reviews of David Wind Books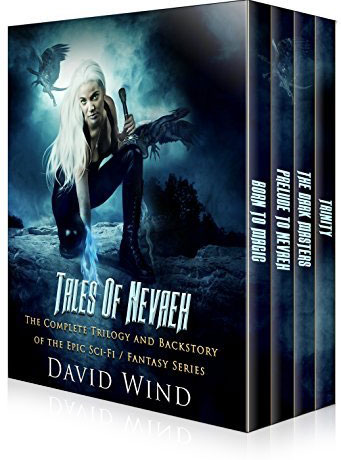 Tales Of Nevaeh
Use the links below for reviews of the TALES OF NEVAEH Series:
The following reviews are samples of the reviews you will find online, at various sites such as Amazon, iBooks, Kobo, B & N, and others.
---
A Better Place To Be:
Based on the Harry Chapin Song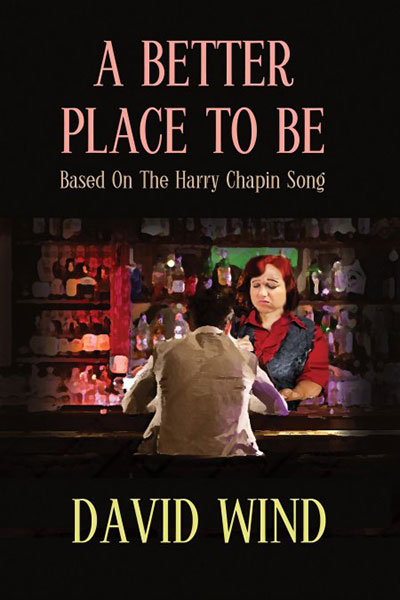 Wow.
That word just comes to mind over and over, in regards to this book, along with the phrase, heart-wrenching. It's good though – incredibly, in a makes-you-feel-things-and-think-things brilliantly good.
Upon first meeting John, he's likable enough. He soon turns out to be sweet and the reader would have to be dead to not feel his love for Claire – and it is mutual. So the two of them have this great, comfortable thing…until tragedy strikes. Then the reader is treated to a gut-wrenching, realistic, accurate view of what happens all too often to too many people. I doubt there's a person alive who cannot relate to this… Still, Wind puts it all so simply and so realistically, it's like nothing i've ever read or am likely to read again.
Not only does he repeatedly rip out my heart and stomp all over it – and I like it somehow, so apparently I'm some kind of sadist – but he perfectly portrays a good – better than average actually- man turning into completely something different, as a result of the bulls— that life has thrown at him. It's fascinating to see someone on a downward spiral with such detail and realism and it made me think… you just never know what people have been through, in order to end up what/who/where they are. It prompted thinking about other things as well, annoying, hot-button issues like the medical care situation in America – but that's a conversation for somewhere else.
Portrayal of John trying to crawl his way back into being a contributing member of society, and before that, even working to figure out whether that's what he wanted, seems accurate. The help he receives from a brilliant doctor and even the rulings from a fair judge instill thoughts of something like, 'This is how it should be in a perfect world… rehabilitating people, not just locking them up, necessarily.'
Point is, if you want a book that's real and will make you think, this is the one.
If you don't want to think but like a book that'll give you all the feels, this is also the one. It's well detailed with perfect continuity.
I've now read several very different genres in Wind's voice and all are amazing; he has this rare, raw talent, to write anything, I think.
And did I mention it's based on a song? 'A Better Place to Be' by Harry Chapin, a song that'll never be the same for me. It seems completely natural as if the book IS the song and the song IS the book. Brilliantly perfect.
ALL the stars. All of them. Wow.
J. Lacie Redding, Reviewer
---
A Better Place To Be
"I didn't know the Harry Chapin song before this but, having read several of his previous books, I do know David Wind to be a good writer. So I jumped to read this new release, and I was well rewarded.
A Better Place to Be is different from Wind's sci-fi/fantasy and thrillers, and reveals yet another facet of this author. John's story is told in a way that is human, caring, and insightful. I found myself suffering along with the character and willing him to make it through his long journey.
Thank you, David Wind, not only for writing a memorable story, but for introducing me to Harry Chapin." L.B.
---
ANGELS IN MOURNING
(www.bookideas.com )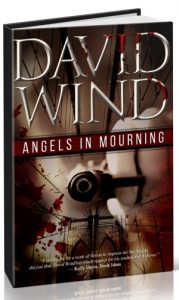 I'd never had the pleasure of reading any of David Wind's 33 previous novels, but when I finished his latest novel, Angels in Mourning, I made a vow to go back and read the rest of this very talented writer's work. Angels' immensely likeable private investigator protagonist Gabriel Storm (if you think that's a great name, wait until you read his assistant's moniker!) had been falsely imprisoned for many years for the murder of his beloved fiancée, stage actress Elaine Hall. While Storm lingers in prison, only two people believe in his innocence, playwright Scotty Granger and police captain Christopher Bolt. Through much steadfast determination, Bolt and Granger eventually win Storm's acquittal. So when Granger is found viciously murdered in what was clearly a crime of passion, Storm is on a mission to find and bring his murderer to justice. Of course, the more Storm investigates Granger's network, the more he realizes that many people could have wanted him dead. Was it one of the greedy hangers-on who have invested in Granger's new play? Was it a jilted ex? Was it a slimy human-trafficker, or worse yet a pedophilic politician? Who can Granger trust? The Homeland Security agent who may or may not be on the up and up? His own new girlfriend who seems to show up every time someone tries to kill him? I thought I had the case solved by midway through the book, but in reality I'd taken Wind's subtle bait and was way off track.
I will admit I'm a bit of a literature snob, but Wind's narrative not only left my intelligence intact, he did a magnificent job of drawing me into Storm's pleasantly-seedy New York. For instance:
The Westside diner was slow…a throwback from the forties. You know the type, all chrome and vinyl with a checkerboard black and white floor. Old and faded pictures of New York lined the walls. It was a cholesterol heaven of pies, muffins, and greasy donuts heaped in scratched plastic covered trays on the counter. Five big chrome coffee urns, like missile silos, were lined against one wall. A rectangular cut-out separated the dining room from the kitchen. Every sound made in the kitchen reached the eating area.
It takes a lot for a work of fiction to impress me but Angels did just that. David Wind has much respect for his readers and it shows.   — Kelly Davis
GOODREADS


Monica Silberman's review:
I read this when it first came out and just re-read it. I'm not a big fan of the hard boiled detective stories, but this one was very different. It was contemporary and it's main protagonist was really well done. He was hard where he was supposed to be, and warm at exactly the right times. His sidekick is-(you have to read about the sidekick) The plot was well paced and there were several spots that caught me completely off-guard. The ending, well…. it was surprising and great!
AUTHOUR QUOTES
A complex and highly intelligent detective story, David Wind's latest novel demands your attention and pays off big time. Tightly written and intricately plotted, ANGELS IN MOURNING will leave you wanting more—and there's plenty to choose from among Wind's thirty-three previous works. Finding such a talented, prolific writer is a mixed blessing: So much to catch up on, and so little time!
— Ken Isaacson Author of the amazon.com #4 best seller, SILENT COUNSEL.   Visit Ken Isaacson's website
Angels in Mourning is a complex and fascinating story with a real surprise at the end.
— Roberta Gellis, best selling author of the Magdalene La Bârtarde Mysteries.
Queen Of Knights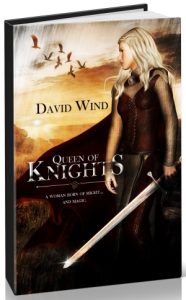 GOODREADS


This book was not what I was expecting – it was better. I love knights and the legends that have grown around them and this book did not disappoint. The opening pages took me to a place I rarely visit, the fantasy area of my mind. Overall, this historical fantasy kept be wrapped within the story through every single page. The protagonists were well drawn and interesting, the places intriguing and the story perfectly crafted. I recommend this one for everyone.—M.S.
AMAZON.COM


A refreshing story of good conquering evil
It is a different spin for a traditional type of story in the time era of the crusades. Also it is a fun mix of fantasy, historical figures and literary figures. — Theodore l Bessey
AMAZON.COM


Sweeping saga of a love that defies war and death. Romantic, epic, powerful.
Bought it years ago, when it first came out. But I made my husband download it on his Kindle for me — Laura P. Castoro "Laura Castoro — author" (AR)
AMAZON.COM


Read Queen of Knights when it first came out and loved it. Now that I have a tablet Iwanted to load it so I could read it again whenever I wanted. — SUSAN HOLVE
AUTHOR QUOTES
"Historical Fiction and Fantasy…Outstanding!"
— Andre Norton
"An Unusual Fantasy in which history and fiction dances to the Author's piping."
— Roberta Gellis
The Hyte Maneuver:
ALA Booklist (American Library Association)
1/1/88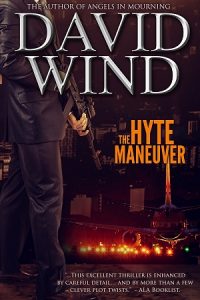 "…This excellent thriller is enhanced by by the careful detail with which police investigatory procedures are described, by the presence of a sharp protagonist in Hyte, and by more than a few clever plot twists…."  — WL
KIRKUS REVIEW
(1/1/88)
"…Half Thriller, Have whodunit, not half bad…   Nicely handled stereotypes, from people to places to emotions….  Biggest asset is Hyte, who wears well enough to become a series hero."
GOODREADS


Tammy Sabat
This type of thrilled is not usually the kind of thing I would read, but knowing David Wind's work – I took a shot – WOW! I only wish he had written a sequel so I could spend another weekend just reading about Raymond Hyte.
Infinity's Doorway
Amazon.com


C.L. Bradford
"Let Yourself Be Drawn In… Never much of a fan of science fiction, I was more than pleasantly surprised by David Wind's "Infinity's Doorway." Well written, with excellent character development. This novel draws you in and leads you on a journey with breathtaking surprises, dangerous enemies, and loyal friends. I definitely recommend reading and sharing this book!"


mary_benlota
I got this book as a present, and with it's scary cover, I thought I wouldn't like it. But as it turned out, it became one of my favorite books. It has a lot of elements combined–science fiction, romance, paranormal… and definitely makes an interesting read! I love the plot, the abilities of the characters, and of course, the ending. I highly recommend it!


A reader
I read this book thinking that it would be some kind of science fiction book that was like every other book out, but it's not. It has a lot more. It has romance, war, and a little bit of immorality. It's a great book to read. I read it in 3 hours just because I couldn't put it down. I recommend this book for teenagers or older for they will get the terminology that is used.
GOODREADS


David Farber
Since I love Parallel world stories, this was perfect for me. The author took a story line that has been done in several versions and turned it into something special. I have followed this writer for many years, and I like the way he builds a character and tells a story. This book was no exception, another strong book by a strong writer!
CO-OP
PUBLISHER'S WEEKLY
4/22/87
… Wind mostly confirms prejudices about venal, avaricious lawyers and real estate agents, but does so in a well oiled melodrama that should make good beach reading.
RAVE REVIEWS
6/87
"…CO-OP will keep you on the edge of your chair until the explosive finish which has everyone running for their lives"  — Maria C. Ferrer