The Indie Writer's Handbook:
Designed for Independently Published Authors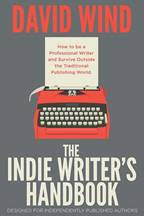 A step by step publishing guide for Professional Indie Writers, from final draft to publication and launch marketing, with publishing, editing, cover, and design resources dedicated to moving writers out of the "self-Publishing" stigma associated with vanity press publishing and into the world of professional Indie writing and publishing.
David Wind is a Hybrid author with 40 books of fiction published both Traditionally and Independently. He is a member of the Authors Guild, The Mystery Writers of America, The Science Fiction and Fantasy Writers of America, Novelists Inc, and AL, and is the incoming President of the Florida Chapter of the MWA for 2020.
A great primer for new Indie authors (as well as ones that have been around and are wondering if they are doing everything they can to succeed). The easy, conversational style makes the fact that it is packed with information painless, the screenshot walk-thru's of how to fill-out and accomplish various tasks online were a great idea – I'd definitely recommend!

USA Today and WSJ Bestselling Indie Author Amy Vansant